What's On Page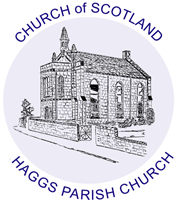 Minister: Rev. Raheel Arif

Tel: 01324 819149

July 2020
Unfortunately the Church of Scotland, has advised us to cancel all our services of worships w.e.f. Wednesday, 18 March 2020, until further notice.

A weekly message from our minister can be accessed from the Ministers Page or from the following link
Raheel will also be delivering a video message on his Facebook page at 11.30 am on a Sunday.
A facebook account is required to access.
Link:
https://www.facebook.com/groups/815604555526629/
A YouTube channel to store all the videos has been created to make access easier for those who do not have facebook.
The new link below will take you directly to the channel where all the videos will be visible as they become available.
https://www.youtube.com/channel/UCNfu0lE7AYM97QfvFq75h1w
A Message from your Treasurer
On behalf of the Kirk Session may I thank you for your continued support to Haggs Parish Church.

Can I just remind you of the different ways in which you can make your offering?
By Weekly Freewill Offering envelopes. Please see the Treasurer Marion Campbell if you wish to have envelopes or ask your elder.
If you pay Income Tax please Gift Aid your offering – this allows Haggs Church to claim back the tax which you have already paid (approx. 20% more – at no extra cost to you). Please see Murray McCheyne or Marion Campbell for a form to complete (this does not tie you to a fixed amount or a fixed term but allows the Church to claim back tax on however much you give) or again ask your elder. On average over the last few years we have recovered between £5000.00 and £6000.00 per year from Gift Aid. Without this money would not have been able to pay all our bills…………..so please – the more we can claim in Gift Aid the more money we can get back.
Either of the above methods can be made by Standing Order directly from your bank account to the Church's bank account. Saves the number of WFO envelopes we have to buy and saves you remembering to make up the Sundays you have missed for whatever reason. It is really important to Haggs Church that you do make up the weeks you have not managed to get to Church so that we have a more accurate assessment of what monies are coming in to be able to budget for the expenditure.
We are most grateful for your generosity to all the charities we support – for a small congregation you do give very willingly to others – so thank you.
Thanks for all your loyalty and support and PLEASE ………don't change!
Marion
Prayer Tree

Our Prayer Tree is positioned in the vestibule at the entrance to the church.
Requests for prayers can be written on the labels provided, then hung on a branch,
these will be forwarded to our locum minister to be included in future services.
Hearts can also be placed on the tree in memory of loved ones.